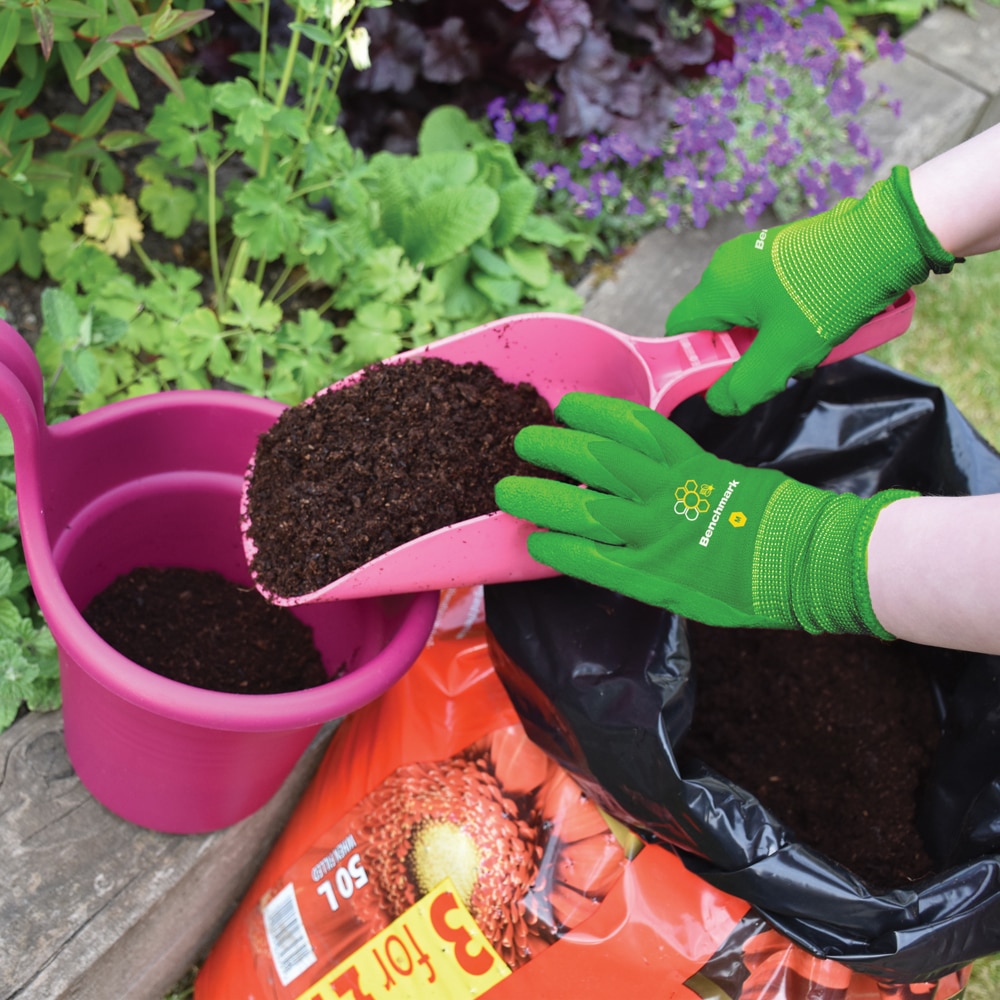 Sustainable living has fast become a part of our everyday lives. However, knowing how to incorporate eco-friendly habits into your daily tasks can be confusing. For example: what plastic goes into the recycling bin? How can you cut down on water waste? Or what products are good for the environment when gardening?
If you want to keep your garden 'green' but have no idea where to start, we have taken the stress out of searching for solutions and put together a list of top tips to create a more environmentally friendly garden.
Choose eco-friendly accessories
Start off your new path to a sustainable garden by sourcing green accessories to help reduce your carbon footprint.
The SHOWA 6110PF gardening gloves are the ideal disposable safety glove for those one-use outdoor tasks where PPE is required. These 100% biodegradable nitrile gloves with Eco Best Technology®, are a significantly stronger alternative to latex too that may otherwise damage your everyday gloves.
Many outdoor gardening tasks can be very messy so protective gloves are essential when dealing with grease, paint, or chemicals – and in using these disposable gloves will mean you don't end up smelly of manure or strong-smelling teak oil.
You can rest assured that this product will not remain forever in a landfill somewhere. These Showa gloves are also 100% nitrile, latex-free and powder-free making them suitable for sensitive skin.
Watch your water
Water is invaluable when it comes to gardening however, it is certainly not to be wasted. To help you become more water-wise, try to remove sprinkler systems wherever possible or set them on a timer for minimal use. Collecting rainwater can also be a great way of recycling for future irrigation of your crops when you find yourself running dry. MStore environmental experts advise using rainwater wherever possible instead of taking it from the tap. And, if you have a downpipe, you can install a butt at the end to help collect water naturally. Water is abundant this time of year in the winter months, which can be used for watering your indoor house plants.
Cut out the chemicals
Cutting out pesticides completely is a great place to start if you're looking to go completely green when gardening. Overuse of the chemicals have resulted in a disastrous decline of some insect populations and obviously don't help against the fight to protect the Ozone layer.
An alternative would be to make your own fertiliser to increase your gardens health and the natural environment. Natural leaf mould is just one way to produce fertiliser in an environmental manner. You can use everything from leftover food to grass-cuttings and weeds – all of which are ideal in helping your garden grow and can actually help your plants last longer.
Other sustainable tips and tricks
Eco-friendly flowers can be found in native plants such as wildflowers which are great for attracting butterflies and bees and can be more resilient to pests than more common plants – this can increase biodiversity by encouraging wildlife into your garden
Reuse materials such as tin baths, buckets and scaffolding boards can be put to good use and bring character to your garden – although remember your protective gloves when handling such equipment
Make your own compost by recycling green waste. It will not only save the environment but also save you pennies. Perfect ingredients for compost include hedge trimmings; egg boxes; lawn clippings; shredded paper; tea bags and leaves. Create a compost heap for left-over food in order to recycle organic waste into a rich fertiliser
Finally – grow your own fruits and vegetables. Not only do these taste incredible in flavour but they are also better for the environment and saves money on your food bill plus the garden will look absolutely beautiful when full of delicious garden produce. Your sense of pride from picking to eating your very own gardens produce is also second to none.
Find your perfect eco-friendly gardening gloves here: https://retail.mstore.co.uk/product/showa-6110pf/