Save £4.00!
Multi-Purpose Gardening Bundle
Was £18.99 (£12.49 exc. VAT)
For both budding gardeners and the expert green-fingered horticulturists, we have collated the perfect yet cost-effective gloves for use all year round from one of our most popular brands. Replenish your basic gardening tools and prevent hand injury with the Benchmark range.
Benchmark Thermal
Product Documents & Downloads
Benchmark Multi Task
Product Documents & Downloads
Benchmark Tactile
Product Documents & Downloads
Product Data
Benchmark Thermal
| | |
| --- | --- |
| Brand | Benchmark |
| Suitable Applications | Cold Storage, Gardening, Home and Garden |
| Price Per | Pair |
| Reusability | Multi-Use |
| Coating | Crinkle Foam Latex |
| Size | S, M, L, XL |
| Liner | Brushed acrylic inner liner, Polyester outer liner |
Benchmark Multi Task
| | |
| --- | --- |
| Brand | Benchmark |
| Suitable Applications | Cutting, Gardening, Home and Garden |
| Price Per | Pair |
| Reusability | Multi-Use |
| Coating | Latex |
| Size | S, M, L |
| Liner | Nylon |
Benchmark Tactile
| | |
| --- | --- |
| Brand | Benchmark |
| Suitable Applications | Cutting, Gardening, Home and Garden |
| Price Per | Pair |
| Reusability | Multi-Use |
| Coating | Latex |
| Size | S, M, L |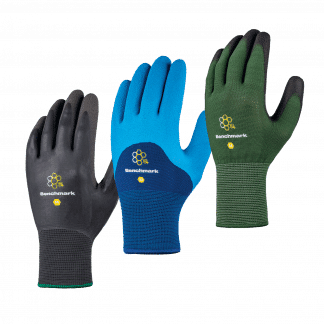 You're viewing: Multi-Purpose Gardening Bundle
Was

£

18.99
Add to Basket